So, January is now well and truly over for another year. You've probably indulged yourself too much during the Christmas break eating far too much food, particularly those puddings!
As a result of all this, you've now possibly joined a gym (as one of your new year's resolutions), tried dry-January, intermittent fasting, carb cycling, ketogenic, paleo, mediterranean or any other diet you've read or heard from a friend, but I bet none of them worked. You've either given now up or it just wasn't for you.
Although some diets might have worked for your friends, most of them are not the right fit for you and after a few days/weeks you've become bored and forgotten about it.
You are now wondering what did you do wrong and how you can shift those extra pounds you are so desperately want to loose before the summer arrives?
Generally people refer to "diets" as restricting the food you eat for a "period of time", usually a very short one.
Rather than concentrating on a short "period of time", concentrate on things you can actually change for longer periods of time and are therefore sustainable. You might not notice a drastic weight loss, but weight will come off eventually (slowly and steady) that's' when you know that you are on the right track.
Below are a few tips you can try:
Don't skip breakfast – you need to start the day with energy
Have regular meals – start with four meals a day (smaller portions and regular meals)
Don't let yourself get hungry because you'll eat anything when you are hungry… at least I do!
Drink 6-8 glasses of water a day – water is like oil to a car
Cut down on sugary foods
Change white flour to Wholegrain products – they are easier for your body to process and are better source of energy
Eat lean cuts of meat – they are easier to digest and will help your body
Eat plenty of fresh fruit and vegetables, green leafy vegetables
Cut down on Trans fats (processed food/takeaways), swap for good sources of fat to give you fuel and energy (i.e. avocado, almonds, olive oil, etc.)
Plan your food in advance – be prepared!!!
Unfortunately the process of losing weight is never too easy or fast. You need to work at it!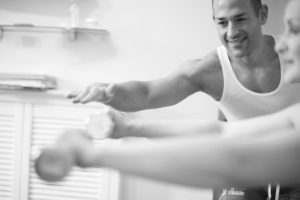 Finally, if you have a bad day and eat things you shouldn't, don't give up. Just promise yourself you'll be better the following day, and then stick to that promise. Good luck and here's to a healthier and slimmer you in 2019!
By Juan Muguerman
Personal Trainer
Instagram: jsmfitess
T: 07590 830263
W: jsmfitness.co.uk
E: [email protected]